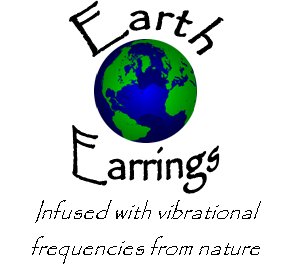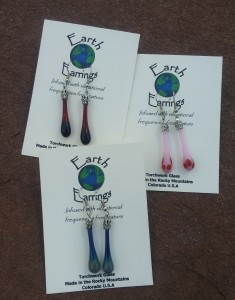 Raise your vibration,
support your throat chakra & clairaudient channels
with Earth Earrings
So many people have trouble with their throat chakra.  This results in an inability or limited ability to speak your truth.  This also impacts an individual's clairaudient development and expression of that natural intuitive ability.  So often after suppressing one's truth for decades it becomes increasingly difficult to hear the messages coming through from the animals, nature and our "Cosmic Committee."    Not to mention the physical ramifications!  I love the idea of infusing and surrounding this chakra in supportive, nourishing, and  high vibrational energy.
James Spehler is a Master Glass Sculptor who creates glass earrings with the elements Earth, Air, and Fire.  To honor and activate the fourth element of water, and complete the circle, the earrings are immersed in Structured Water infused with vibrational frequencies from nature that support your throat chakra, speaking your truth, and your clairaudience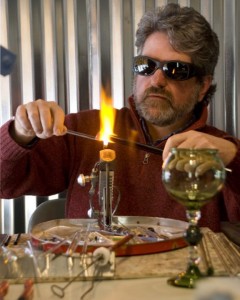 Beautiful Earrings that support
speaking your truth and the development of your clairaudience

Here we grow again!!!
Price includes 1 pair of earrings and the shipping & handling within the continental U.S.
Earrings are approx 2 in long and the hardware is stainless steel
Available colors include: cobalt blue, ruby red, passion pink, peacock blue, aqua, or moss green
The back of the earring card explains the nature infused energy
You can expect delivery approx 2 weeks after you place your order
Contact James at jamesspehler@yahoo.com for other shipping options
Please indicate any preference in colors in the Comments/Special Delivery Instructions section at the bottom of the order form.  If you make no selection, James will intuitively select a pair for you.
As a handcrafted item, there are color and size variation that may occur